Tell The Time in Steampunk Style!
I love the look of steampunk accents in a room, but a wall clock is just really special and takes the steampunk experience to a whole new level.
I love seeing all of the different types of cog designs that make up some of the steampunk clocks I've seen.
If you prefer a more 'conventional' nod to steampunk you can also find round or square clocks with a steampunk art inspired face which still add that certain 'edge' to a room in a more understated fashion.
Open Dial Resin Clock
I absolutely love the look of this clock, it has an openness about it with how the numbers are laid out combined with steampunk infused decor in the middle with the cog details. The antique gold coloring on the resin makes the clock seem as though it's from another era.
I should mention that the cogs in the center are merely decorative and do not move, but I don't think they have to as the clock looks good just how it is.
 Infinity Instruments Gear – Open Dial Resin Clock
This wall clock is what I call a statement piece without being to avante garde! It's the type of clock I could get away with putting up in any of the living areas in my home without my husband (who's taste is more conservative than mine) looking at it and trying to think of a way of saying – can we put that in your office? I'm not sure it looks right here!
Heart Shaped Steampunk Clock
A Perfect Timepiece for the Bedroom
This clock is unashamedly steampunk and doesn't care who knows it! It would look great in an office with dark wooden paneling (or have I been watching too many period dramas?), but even better than that I think the heart shape makes it perfect for a master bedroom.
 Steampunk Wall Clock Heart Pierced Cupid Gearwork Painted Resin
I love how this design has incorporated a brick red color in it which seems to suggest a deep and suppressed passion and works exceedingly well with the bronze colored resin components.
Incorporating cogs, gears as well as an arrow through the heart shape makes this a very romantic looking clock that would not only be great as a accessory in a marital bedroom, but would also be a pretty cool gift idea for a romantic partner who loves all things steampunk.
I think the heart shaped clock goes perfectly with how Jake von Slatt visualizes steampunk……..
To some 'steampunk' is a catchall term, a concept in search of a visual identity. To me, it's essentially the intersection of technology and romance.
Jake von Slatt
Of course the heart shaped steampunk clock may not suit all people and in fact there's even a quote I can use for those of you who don't like it …..
A clockwork heart can't replace the real thing.
Dru Pagliassotti, Clockwork Heart
More Steampunk Clocks
If my two first choices of clocks haven't got your steampunk juices racing then perhaps you'll prefer one of these timepieces.
Although you don't actually need a wall clock to bring a taste of steampunk into a room (after all you could use artwork or other accents) it does pay to remember what Voltaire said.
"I cannot imagine how the clockwork of the universe can exist without a clockmaker."
With that quote alone I feel that any steampunk inspired home decor needs a clock of some description whether it's one of these wall clocks or a table clock or even a grandfather clock.
Bronze Finish Steampunk Wall Clock
This clock has been hand painted in bronze, black and brick red to add a lovely old, distressed look to it.
Running on a single AA battery this wall clock looks the part beautifully and even has a thermometer at the bottom which is a nice touch allowing you to dress for the right temperature before leaving the house for your daily adventure!
Colonel J. Fizziwigs Steampunk Wall Clock
Made of cold cast resin this is part of the Colonel J. Fizziwigs Steampunk collection – if you've been looking at steampunk goodies for a while you've probably seen the name as he has a number of items that are awesome for any steampunker including some great weapons.
This wall clock has been beautifully hand painted in silver, gold and copper enamel paint which has a lovely effect on the finished product.
Click Clock Antiques Finished Metal Wall Decor
I love the look of this clock as it has a very unique feel to it and is right in keeping with steampunk fashion. After reading a comment by a reviewer, however I got my tape measure out and I'd advise you to make sure you're aware that it's a small clock.
I think this would be much better on a larger scale, but it really depends on whereabouts in your home you want to have it – if I was still living in my last house I would've had the perfect spot, for my current house I think it might feel 'lost' on the wall that the design would look good on.
It might be time for me to try my hand at clockmaking though because the design is really eyecatching!
Zazzle have created some great opportunities for a more conservative approach to adding steampunk flavor to your decor with these clocks. Basically they have incorporated art designs to the back of wall clocks that are like steampunk posters. This could be a great compromise if your household includes steampunkers and non-steampunkers or if you're new to the genre and aren't quite sure how far you want to take your home decorating.
These clocks run on a AA battery and the design is actually printed using what is called an AcriliPrint HD Process that has received rave reviews from customers for the clear and vibrant look of the images. That's enough about the 'boring' technical details, let's look at the cool designs instead!
These first three are all based around cogs (I especially like the look of the mechanical heart).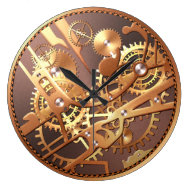 Steampunk Watch Gears Round Wall Clock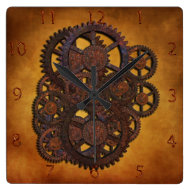 Steampunk Rusty Gears Clock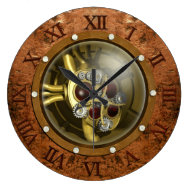 Steampunk Mechanical Heart Clock

If you don't like the look of these three I've found a few more wall clocks that you might like instead.   Of course if you're like me you might have problems narrowing it down to just one clock so I'd like to remind you that it's okay to have more than one clock in your home!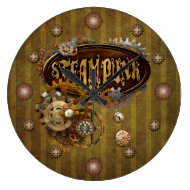 Steampunk Round Clock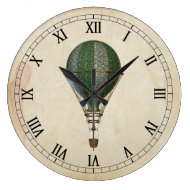 Hot Air Balloon Clock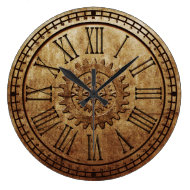 Steampunk Wall Clock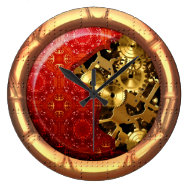 Steampunk Wall Clock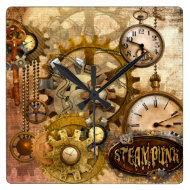 Time Wall Clocks

Tic Tac Round Wall Clock

I hope you've enjoyed looking at my selection of steampunk clocks, the steampunk culture also loves pocket watches and these are often used in costumes. Personally I love the pocket watches that have been re-purposed into pendants as they add a lovely touch to just about any outfit.
I also think that a nice grandfather or grandmother clock can look very nice in a steampunk home – I can remember my great aunt's grandmother clock vividly from when I stayed with her as a child and I have always visualized myself owning one (still working on that at the moment).
I haven't added any table clocks to this page, but in reality they do look awesome on a mantle and are probably more in keeping with steampunk than a wall clock. When it comes to home decor in general though I think a wall clock is a great way of adding some personality to a wall which is why I've chosen to spotlight them here.
Note: As an Amazon Associate I earn from qualifying purchases – more information can be found on our disclosure page.